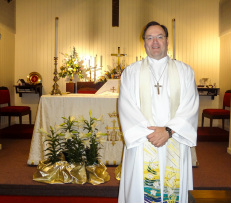 Welcome to the website for The Rev. Dr. James E. Taylor. Presently, I am the Rector of
St. Thomas Episcopal Church
in North Charleston, South Carolina.
St. Thomas is located in the Park Circle
area of this beautiful, thriving and prosperous city. The parish is known to be a friendly, inviting and inclusive church. Newcomers often say, "St. Thomas is the most welcoming church they have visited." I would agree with this opinion, and invite you to have the same experience. When you visit St. Thomas, you will experience the love of Christ, encounter a faithful and diverse worshiping community, and depart knowing you have been touched by the grace of God. The congregation lives by the motto,
"Surely the presence of the Lord is in this place."
My ministry began at St. Thomas in September of 2003. The Search Committee issued the call, after a thorough and comprehensive search process. Prior to becoming Rector of St. Thomas, I was the Associate Rector at
St. John's Episcopal Church
in Fayetteville, North Carolina. While each parish served has been a gift from God, the congregation of St. Thomas has been a true blessing in my life. Daily in my ministry, I have the privilege to see the hand of God at work in the parish, through the lives of many active members. Please come and join us!!!!
In 2014, I completed my Doctor of Ministry degree from Virginia Theological Seminary. The theme of my thesis is stewardship; "Transforming the Giver: Effecting Congregational Giving Patterns Through Faith, Gratitude, Formation and Proclamation." Click
here
to view my stewardship website.
---